We've received hundreds of positive reviews over the last 20 years that 1st Approach Transport has been operating. We've handpicked a few of the best to share. Don't just take our word for it, read all our reviews!
If you want to leave a review or make an enquiry, feel free to get in touch with us.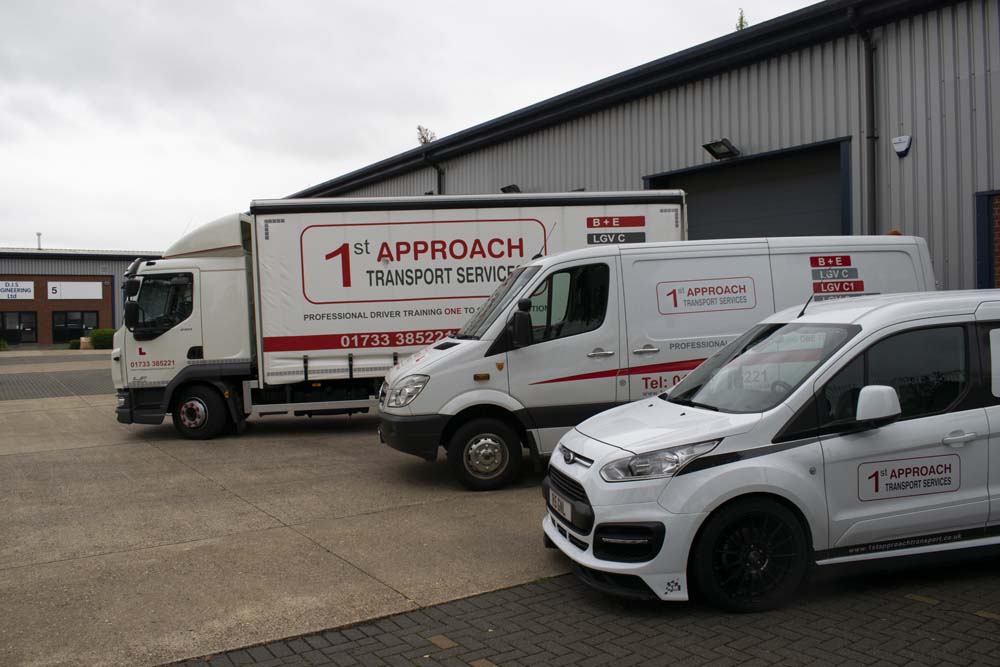 I've pass my class 1 and class 2 in first attempt 😊 good and professional
Pawel Ratajczyk
I passed my test 1st time with the instructor Garry, with just 6 hours tuition! 1st Approach Transport delivered a very professional and attentive course, using immaculate modern vehicles to learn in. My course was tailored to my needs and Garry was even able to book my test in with short notice too. I would highly recommend using 1st Approach for doing c1 driver training.
Paddy Mount
Garry at 1st Approach gives an all round package and very professional service with excellent training. The equipment Garry uses is 1st class, very clean/tidy and modern. Nothing is ever too much for Garry from phone calls to answering daft questions. Other training providers may be cheaper but i highly recommend 1st Approach as he is very knowledgeable in every aspect of his training. He helped me gain my Class C first time and then my C+E licence.
Matt
I would like to thank Garry at 1st approach for helping me pass my LGV driving test. Having failed before using a different training company, I can honestly say Garry made a massive difference and is the reason I was able to pass the test.
I 100% recommend 1st approach and Garry, as having had training elsewhere I realise how good and professional 1st approach is.
Again a big thank you
Claudia Verburgt
I would like to thank Garry at 1st Approach Transport for helping me pass my test first time. Everybody at the company is extremely helpful. Garry is a first-rate instructor and I am so glad I chose to train with them.
A special mention about Bryan who was such a nice warm person.Many thanks, Wayne.
Wayne Turner
Thanks to the extensive and careful instruction of Gary I passed my Category C license on the first go. And it was a super speedy process as well! I passed my theory, driving test and Driver CPC all within the course of 2 and a half weeks. This would have never been possible without the support and advice from this great instructor!
Many Thanks
Saskia Duch
I would like to sincerely thank Garry for getting me through C1+E on the first attempt. Brilliant instructor and an exceptionally nice person. He organised everything for theory and hazard awareness and then the driving test. The whole experience was faultless. Highly recommend Gary and 1st Approach...
The whole experience was exceptional.
THANK YOU
Wayne Toulmin
I passed my C1 driving test first time thanks to Garry's patience and attention to detail. I felt confident on test day as we went through all of the processes thoroughly and step by step. I highly recommend 1st Approach Transport.
Rachel
Firstly I would like to thank Garry for his help and tuition through the course and getting me through my test on test day. I don't think I would've been able to do it without his encouragement and confidence in me. The course itself was brilliant. It is a very thorough course that covers all the areas and aspects needed to pass your test and drive at a professional level. I would highly recommend using Garry and 1st approach for your advanced driver training as they are superb. 🙂
Tom Waltham
Garry got me through my Cat C & Cat CE driving test, He is a friendly and professional person his style of teaching suited me very well. He also helped and got me through my drivers CPC. I would recommend him to anyone.
Michael Darnes
Garry's approach is brilliant, he arranges theory tests etc for you, so no need to worry yourself with the little details, leaving you free to concentrate on the task at hand. I really enjoyed my time with Garry, resulting in a first time pass. I can honestly say I have never learnt so much, about driving and myself, and having a great deal of fun at the same time. Nothing is too much bother, you can email him about anything and a helpful reply is always received. In my opinion, 1st Approach is the only approach if you want to drive to the high standards required.
Jay
From the moment I arrived Monday morning to the minute I left on Friday. Garry was encouraging, helpful, clear and attentive. I felt the training was thorough and every angle was covered and prepared for, before the big day. I would recommend 1st approach training to anyone. Garry thanks for your time and patience, you're a top bloke.
Ryan
"One-to-One" Individually tailored tuition
Courteous, Professional Service at all times
Highly Recommended by Trainees
Extensive Record of Testimonials
New Training Vehicles
Excellent Historic Pass Ratio Records
Cost Effective Tuition based on your needs
Training Advice & Support
Theory Training Help & Support
Online Theory Study Materials
Discounted LGV Medicals
24 Hour Telephone Support
Mock Theory Testing
Regular Training Debrief Sessions
End of Course Feedback
We don't work with Brokers
B+E • LGV C1 • LGV C1E • LGV C • LGV CE